Pupil Leadership Team
Pupil Leadership Team 2019-20
School Captains
Mia McIntyre
Adam Oswald
Depute School Captains
Bethan Griffiths
Hugh Sloane
Morgan Wallace
Callum Fairweather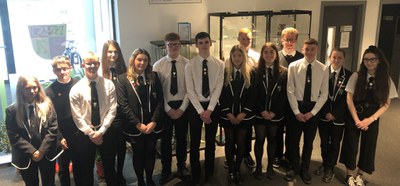 House Captains
Balgay
Molly McGeoghie
Ben McCafferty
Craigowl
Chloe Sim
Sam Duncan
Kinpurney
Peri Marshall
Samuel Ross
Law
Sophie Hendry
Jamie Hay
Remit of a member of the Senior Pupil Leadership Team
Prefects are the school's role models. It is necessary that pupils can display strong leadership within & across the school and wider community.
Prefects are therefore expected to;
Demonstrate high standards of attendance and timekeeping, and a mature attitude towards their studies (maintain appropriate grades).
Demonstrate appropriate standards of dress; wear the school uniform in accordance with the school uniform code.
Fulfill their commitment to Community Service; take a high profile in giving back to the school & wider community.
Be polite and helpful in dealings with staff and young people and be a positive influence on others in the school.
Assist with Parents' Evenings, School Open Evenings, Fetes, Prizegiving, Concerts etc. Once a commitment is made it is the Prefect's responsibility to find a substitute if genuinely unable to attend.
Assist with supervision duties at break/lunch times eg: corridor/canteen/social area supervision or clubs. A timetable will be drawn up in the new session.
Support the work of the Parent Council; by attending meetings and/or assisting at evening events.