Welcome to the Library
Staff Mrs M Duley (Librarian)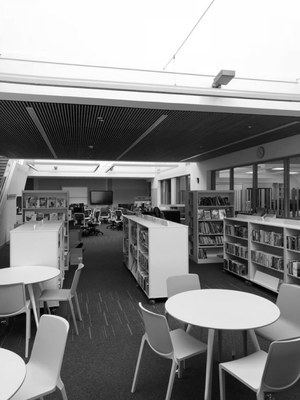 Welcome to the Library!
The Learning Resource Centre is there for pupils and staff to access a wide variety of resources including over 6000 books, DVDs and articles: to read, to research, to engage in private study, to explore topics for projects and subjects on the curriculum, to use the 20 computers to research online and prepare reports/essays.
The Learning Resource Centre is a bright welcoming space which is open for pupils and staff from 8.00am until 4.00pm and is available outside class time for research, typing up essays or simply to relax and read for pleasure.
The Learning Resource Centre supports the learning and teaching of the school in everything it does and the Librarian is on hand to provide support in finding information and resources, choosing fiction to enjoy and anything else she can help with.
There is a well-stocked and very reasonably priced stationery shop which is open all day. Prices start from 5p for a pencil!
Borrowing Books
All pupils automatically become members of the LRC when they join Baldragon. Every pupil can borrow one book at a time which will be issued for two weeks and the book remains your responsibility until it is returned even if you leave it in your english classroom!
You are more than welcome to keep the book for longer than two weeks, just let us know, Then we know you won't have fogotten about it :)
Interval and Lunchtimes
The Learning Resource Centre is open every interval lunchtime which gives all pupils access to computers and resources. They may even be allowed to play the odd computer game or two!
Useful Resources
Click on the images below for some helpful resources
Research Skills
A helpful site to help you navigate finding information, evaluating sources and recording what resources used.

Dundee Reads
So excited to announce the launch of our very own "Dundee Reads" book review site! Put together by our Dundee School Librarians for young people. It's being constantly updated so keep checking back for more great reads! https://sites.google.com/dd.glow.scot/dundeereads