Baldragon Academy and Cash for Kids - events coming up.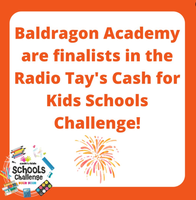 Please support Cash for Kids Tayfm and our School by donating whatever you can using our fundraiser page & help kids in our local communities.
More information and ways to donate can be found here
Baldragon Academy | Radio Tay Charity Schools Challenge 2021 | Tay FM and Tay 2 Cash for Kids - Cash for Kids (cashforkidsgive.co.uk)
Events coming up!
Tuesday 14th: Bake sale at lunchtime @ top of bleachers
Lunchtime @ playground pupil raffle for 2 X Derby tickets £1 per entry (Pupils only) winner wins both tickets
Wednesday 15th: Lunchtime @ playground pupil raffle for 2 X Derby tickets £1 per entry (Pupils only) winner wins both tickets
Thursday 16th: Lunchtime @ playground pupil raffle for 2 X Derby tickets £1 per entry (Pupils only) winner wins both tickets
Friday 17th: Sliming Mr McAninch @ morning interval (One S1 to pour slime)
Dundee United Derby ticket Raffle drawn/winner announced
Deadline for raffle prizes
Friday 24th: Dress down day £1 per family
Raffle drawn