Baldragon Opening Ceremony
We have had such a fantastic morning in Baldragon Academy where we welcomed guests to join us in officially opening our amazing new school building.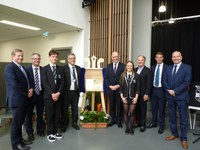 John Swinney, Deputy First Minister and Cabinet Secretary for Education and Skills came to Baldragon Academy to officially open our new building unveiling a plaque in honour of the occasion. He met with pupils and staff during his time at the school.
Thank you to everyone who worked so hard in making this morning so memorable.
Here are some photos to give you just a small flavour of the event. More photos and hopefully a video to come.