Guide Dogs Presentation
Baldragon got some extra special visitors today when Brian Cunnigham from the Guide Dogs visited the school with his Guide Dog Puppy Quip.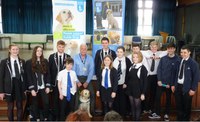 Brian and Quip met with representatives from our Pupil council who were given an excellent talk and demonstration of Quip's skills and training, and were able to present our cheque for £2500 which will allow us to name a Guide Dog Puppy. We raised this amazing amount through a variety of the activities, including sponsored walks, a duck race, Quiz night, coffee mornings, bake sales and donations from our Senior School End of School Dance committee.
In January 2017 we reached our target, and thoughts turned towards choosing a name for our puppy. The pupil council discussed various options at length, and decided upon a name which was announced at the cheque presentation today. The school are very proud and humbled to announce that, rather than choose something directly related to the school name or locality, we have requested the Baldragon Academy puppy to be called "Nicki", after Mrs Brownlee, Teacher of Home Economics, in thanks for the inspiration and dedication she has shown to pupils, and to this project. The name has particular significance as Mrs Nicki Brownlee, lost her husband Jimmy very unexpectedly in April 2012. Jimmy was a well-known figure in the Dundee pub trade, having served as president of the Dundee Licences Trade Association and as vice-president of the Scottish Licensed Trade Association. Jimmy was a dog lover, and often joked with his wife and sons that when he died he would be "leaving his money to the guide dogs", and so when tragedy struck the family decided it would be a fitting tribute to name a guide dog after Jimmy. Family and friends raised money and Jimmy the puppy became a reality. When Mrs Brownlee shared her story with pupils at Baldragon Academy they were inspired to raise funds themselves, and so the challenge to name a Baldragon Puppy began.
We hope we get an excellent guide dog puppy that will take forward the Baldragon Academy values and expectations throughout the training period, and perhaps one day the 2 dogs inspired by Mr and Mrs Brownlee can meet.