Our School
Welcome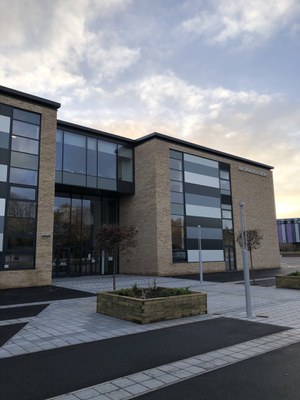 Welcome to our learning community, situated within the Strathmartine ward of Dundee City, Baldragon Academy is a non-denominational comprehensive secondary school (S1 to S6), supported by Children and Families Service, Dundee City Council.
The Baldragon Academy cluster consists of Sidlaw View Primary School, Downfield Primary School, Craigowl Primary School and Ardler Primary School.
In Spring 2018, our school moved into outstanding purpose built accommodation and we are exceptionally proud of our excellent new facilities and school environment.
At Baldragon Academy, closing the poverty-related attainment gap and raising attainment for all remains our main priority and we are resourced to give every learner an educational experience which meets their needs.
Baldragon Academy is on a journey to excellence and I hope you will join us on this exciting journey. Our handbook (available here) provides information about important aspects of school life: our aims; our people; our achievements and our expectations.
It contains lots of practical details about school routines and procedures. As parents and carers, you are our key partners in your child's education and important members of our school community. The partnership between pupils, staff and parents is at the heart of our school community. At Baldragon Academy, we aim to motivate and inspire each other to reach our full potential and take pride in our community. Our school values underpin everything that we do at Baldragon Academy.
Our agreed values of fairness, honesty, responsibility and achievement are built on a foundation of respect. With respect, we work together and achieve more.
For general concerns, complaints and/or compliments, your first point of contact should be via our school office.
For more specific pastoral concerns or concerns about any barrier to learning, your first point of contact should be Support for Pupils team:
Mr A McArtney - Balgay
Mrs Collin - Craigowl (S4/S5/S6)
Mr C McArtney - Craigowl (S1/S2/S3)
Ms Smith - Kinpurney
Mrs Honeyman - Law
At Baldragon our Senior Leadership Team have Year Head responsibilities:
Mr Montgomery, Acting Depute Headteacher (S2 and S4)
Mrs Lowe, Depute Headteacher (S3 & S5)
Mrs Ross, Acting Depute Headteacher (S1 & S6)
I hope this website is helpful to you.
You can also download our school app which is called School App for parents or follow us on twitter @BaldragonAcad. If, however, we have missed out anything that you need to know, please take the chance to ask me or one of my colleagues during any of our meetings or by contacting us directly by letter, telephone or email.
We look forward to welcoming all new pupils who join our learning community and I look forward to welcoming you as parents/carers to Baldragon Academy. I trust that your child will enjoy a safe, happy and challenging learning experience with us.
Hugh McAninch
Headteacher