Department News
Good luck to the following pupils taking part in the Instrumentalist and Vocalist of the Year Competition
Good luck to Holly Flynn and Natasha Borsch who are representing Baldragon Academy in this year's Instrumental Competition. Also, good luck to Carys Morgan who is representing our school in the Vocal Competition.




Look out for some of our instrumental pupils performing in Dundee city's IMS virtual Summer concert.



A FANTASTIC opportunity for all of our pupils (S1-S6) including August's S1 intake!!!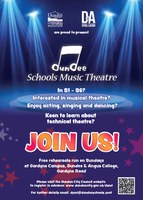 Registration for DUNDEE SCHOOLS MUSIC THEATRE is now open. More details on the image attached or from Mrs Anderson in the Music Department. Don't miss this great chance to get involved in a wonderful experience!
A number of our Music Technology and Creative Industries pupils attended a workshop given by Sound Engineer - Kerr Mathieson from Audio Outsource.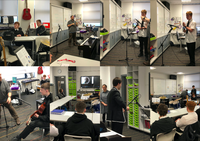 Our pupils found out about the skills required to work in this field and developed their knowledge of music technology skills that they can utilise in their course work. Thanks to Kerr and to Lynn Cunningham from DYW who came to the workshop as well.
What a fantastic time we had in London this year!!
Our busy itinerary included two West End shows - Wicked and The Lion King, tour of Houses of Parliament, Harry Potter Experience at Warner Bros. Studio, Tower of London, guided tour of London, Hard Rock Café Museum and shopping experience on Oxford Street. A great trip with 40 brilliant Baldragon pupils!!!
Have a look at our gallery of photos from the trip.
Well done to our Soul Band and Wind Band who performed at Dundee's Flower and Food Festival this year. Another great performance which was appreciated by the public.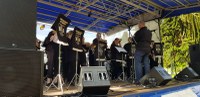 S2 pupils were given a short concert on Tuesday 3rd September by two professional musicians (violin and cello).
The project was funded by Enterprise Music Scotland and enabled the pupils to hear music relating to wild plants. Twelve of our S2 pupils were then taken to Ninewells Community Garden where they developed their composition skills with the musicians using plants that were in the community garden at Ninewells Hospital as their stimulus. Our pupils really enjoyed this experience. Thank you to all involved.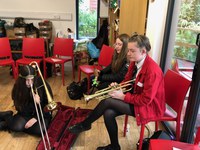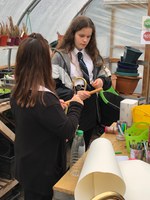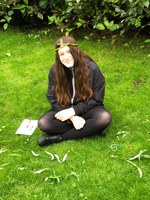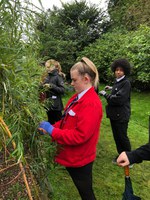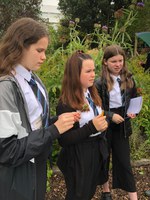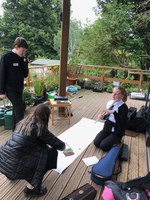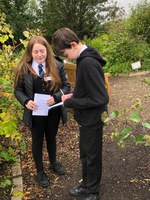 Good luck to our eleven pupils (brass and woodwind) who sit their Grade 2 - 5 exams on Thursday 27th June.

You have all worked so hard and deserve to do well.
Thank you to Arran Smith from Baldragon Academy.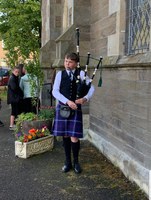 He piped all the Downfield Primary from their school to Downfield Mains Church for their prize giving celebrations.
Well done to Mollie McGeoghie and Alex Smith who attend the Soul Jazz Collective which takes place each Saturday morning.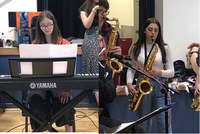 Really enjoyed listening to the musicians and your improvised solos