Dundee Schools Music Theatre
A FANTASTIC opportunity for all of our pupils (S1-S6) including August's S1 intake!!!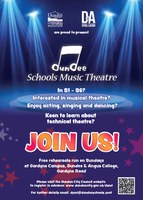 Registration for DUNDEE SCHOOLS MUSIC THEATRE is now open. More details on the image attached or from Mrs Anderson in the Music Department. Don't miss this great chance to get involved in a wonderful experience!