Department News
Tickets for our Summer concert which is on Thursday 20th June at 7.30pm are now available.
They cost £3.00 for adults and £1.50 for pupils. Tickets can be bought at the school or on ParentPay. We look forward to seeing you.
Congratulations to Lexi Jones (S1) who won this year's Silver Leng Medal Competition.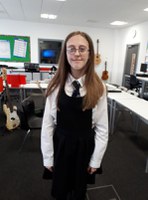 All eight competitors performed very well and were a credit to themselves and to the school.

Over 140 of our music pupils attended the Dundee Schools Arts Festival during week beginning 18th March.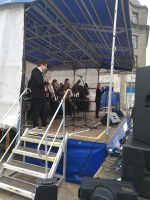 Pupils took part in a variety of workshops including Ukulule, Vocal, Music Theatre, Jazz Piano, Brass, Guitar, Traditional Music, Woodwind, Percussion, Strings and 40 of our S1 pupils attended the wonderful IMS Live concert given by our music instructors. We are so lucky in Dundee to have such a strong and enthusiastic Instrumental Music Service. Our pupils LOVED IT!!!
Well done to our Soul Band who took part in the Rock Stage event in the Dundee Schools Arts Festival.
Another high standard of performance appreciated by the Dundee public in City Square.
A huge congratulation to our music pupils who performed at the Schools' Showcase Concert at the Caird Hall within the Dundee Schools Arts Festival.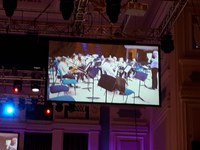 Our Wind Band, String Ensemble and Primary Cluster Band gave great performances.
Well done to Andrew Watson (S6) who competed in the Rotary Regional Vocalist Final Competition.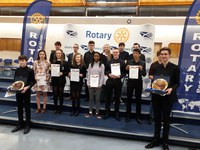 Andrew sang "The Vagabond" and "Stars" to a very high standard. Fantastic effort Andrew getting through to the Scottish Finals. Well done!!
Congratulations to Andrew Watson (S6) who won the Rotary District Vocal Competition.
Having won the Rotary Local Vocalist Competition in November, Andrew Watson went on to represent the Dundee area at the District competition on Saturday 9th March. The 16 competitors from the North East of Scotland each sang two contrasting songs. Andrew won the competition and will now represent The North East area at the Regional competition in The High School of Glasgow on Sunday 17th March.
Very well done Andrew - you were a credit to yourself and to Baldragon Academy. We are very proud of you!!
Congratulations to our vocal ensemble who raised a fantastic £314.26 from their hour of carol singing at Tesco, Kingsway.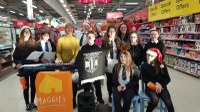 This was a fantastic result and we know that the money will be appreciated by this wonderful charity. Thank you pupils of Baldragon Academy. We are very proud of you!!!
It is now a Christmas season tradition for us to carol sing at Balgowan Sheltered Housing complex and this year was no exception.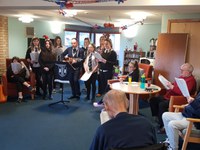 Some of our vocal ensemble entertained the residents with festive music and loved chatting to the the ladies and gentlemen. A great community project working between the generations. Well done Baldragon!!
Well done to everyone who took part in our Christmas concert which included our Primary Cluster Band.
It was a great night of festive music which was performed to a very high standard. Thank you to all involved.