News
Site News
Another incredibly useful document about how to support Parents, carers, children and young people during this difficult time compiled by Children and Family services Dundee with some helpful local contact information. Click here to access the document.
In what is a very worrying time for all of us, it is very difficult to know what is happening or how to explain it to young people, especially those who may feel very anxious.
Cick here for some great advice that has been produced nationally which includes links to other useful resouces.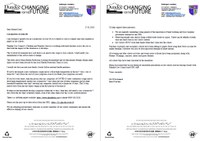 Please click here for letter regarding water fountains in schools.