News
Site News
In school recently we have been running some stress workshops that people could sign up for. They learnt some really good techniques about what stress is and how to cope with it, focusing on exams but also about stress in everyday life.
This was also on offer for some of the parents of these pupils. You can read more about what was covered in this booklet about stress. There is a focus on exams but there is a lot of really useful information about stress in general as well.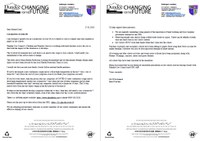 Please click here for letter regarding water fountains in schools.
The most up to date version of the prelim timetable for S4-S6 pupils is now available here to download.
Dundee City Council Children and Family services will be visiting Baldragon Academy to carry out a suport visit to see how well pupils are learning and achieving and receiving the support they need. This will be happening in the new year. Further information can be found here.
Before this happens they would like to hear from parents and carers about the views of the school. This will be done via a survey. You can get to the survey directly from this link but if you would prefer a paper copy contact the school and we will have one sent home. Please complete this survey by Friday 20th December.
S5 pupils are being invited to apply for the Career Ready UK (CRUK) programme. This is an exciting opportunity to be part of an initiative which enhances the skills of young people, equipping them for the world of work.
Career Ready is a UK wide charity, linking employers with schools and colleges to open up the world of work to young people, offering a structured 2 year-programme of employer engagement over the course of S5 and S6.
Each CRUK student is assigned a mentor from the workplace, with whom he/she will link over the course of the two years, developing the skills and knowledge which will equip them for their future career. CRUK aims to help young people develop the skills and attributes employers look for, as well as open doors to jobs and careers they may never have considered before, offering them a wealth of opportunities and giving them the confidence and ambition to pursue them.
Full details of this fantastic opportunity can be found in the letter attached.