Department News
Congratulations to our vocal ensemble who raised a fantastic £314.26 from their hour of carol singing at Tesco, Kingsway.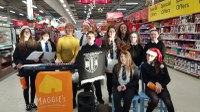 This was a fantastic result and we know that the money will be appreciated by this wonderful charity. Thank you pupils of Baldragon Academy. We are very proud of you!!!
It is now a Christmas season tradition for us to carol sing at Balgowan Sheltered Housing complex and this year was no exception.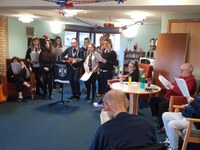 Some of our vocal ensemble entertained the residents with festive music and loved chatting to the the ladies and gentlemen. A great community project working between the generations. Well done Baldragon!!
Well done to everyone who took part in our Christmas concert which included our Primary Cluster Band.
It was a great night of festive music which was performed to a very high standard. Thank you to all involved.
Our vocal group entertained the patients of Ninewells Hospital with their carol singing.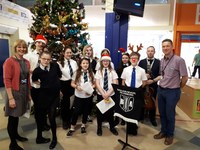 Our pupils loved taking some festive music round the wards and spreading some Christmas cheer to those who are in hospital at this time.
Our Christmas Concert will be held in Baldragon Academy on Wednesday 12th December at 7.30pm. Tickets will be on sale from Wednesday 5th December priced £3 for adults and £1.50 for children from Mr Keir in Modern Studies or through ParentPay. We look forward to seeing you!!
Congratulations to Andrew Watson who won the local competition for The Rotary Club of Dundee.
Pupils from Dundee secondary schools including The High School of Dundee performed two contrasting songs at the Chaplaincy Centre at Dundee University on Friday 23rd November. Andrew will now represent the area in the district competition on Saturday 9th March in Perth.
Thank you to Andrew Watson (S6) and George Carrie (S5) who performed at Strathmartine Parish Church Remembrance service to mark the centenary of the conclusion of the First World War.
Andrew recited Wilfred Owen's Dulce et decorum est and George played The Last Post. Very proud of our boys who were a credit to themselves and to Baldragon Academy.
Some of our National 5 and Higher pupils attended the wonderful concert given by the RSNO at the Caird Hall on Thursday 1st November.
The programme was varied with Dukas' The Sorcerer's Apprentice, Chopin's Piano Concerto No 2 and Rachmaninov's Symphonic Dances. Prior to the concert we attended the pre-concert talk which enabled us to find out a little about the music before the concert. A great night and the 14 pupils loved it!
As part of our Music department's DYW (Developing the Young Workforce programme) some of our Music Technology pupils visited the sound engineering recording studio at Dundee College, Gardyne Road campus.
Our pupils saw round the studio and were able to see how the content of their course is used in the real world of work. Pupils were also able to ask the sound engineer, Mike Brown, about a career in music and pathways into this type of work.

42 our S1 pupils had a great time at the Instrumental Music Service concert at the Caird Hall on Wednesday 3rd October.
The concert was given by all of the instrumental instructors from the city and what a fantastic hour they gave us. Pupils were introduced to the instruments of the orchestra in a fun and exciting. Thank you to everyone involved. When is the next one????
Here are some of the comments from the pupils about the event:
"I thought the performance was AMAZING in so many ways. My favourite out of all the instruments was the electric guitar."
"It was so cool!!! I am so glad we got to go. It was WICKED!!!!!"
"I think this experience was really FUN!!! Thank you for having me. My favourite part was when we sang YMCA."
"The highlight of the trip was seeing how good people are at playing instruments and having FUN!!!!"
"I loved learning what each instrument did and how the drum kit was formed. The choice of songs were really effective. Thanks for having me at your orchestra!"