Carol singing at Sheltered Housing Complex
It is now a Christmas season tradition for us to carol sing at Balgowan Sheltered Housing complex and this year was no exception.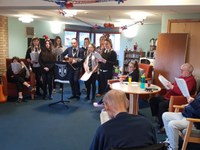 Some of our vocal ensemble entertained the residents with festive music and loved chatting to the the ladies and gentlemen. A great community project working between the generations. Well done Baldragon!!