Dundee Schools Arts Festival
Over 140 of our music pupils attended the Dundee Schools Arts Festival during week beginning 18th March.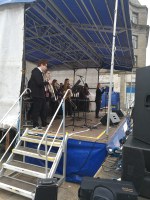 Pupils took part in a variety of workshops including Ukulule, Vocal, Music Theatre, Jazz Piano, Brass, Guitar, Traditional Music, Woodwind, Percussion, Strings and 40 of our S1 pupils attended the wonderful IMS Live concert given by our music instructors. We are so lucky in Dundee to have such a strong and enthusiastic Instrumental Music Service. Our pupils LOVED IT!!!