Soul Band performs at J in the Park
Thank you to our Soul Band who performed at the Jessie Porter Nursery J in the Park Festival.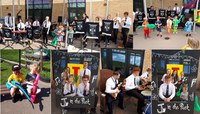 The nursery pupils loved seeing and hearing the live entertainment provided by our talented pupils. The sun shone, the ice cream van arrived and the performances were great. Couldn't get much better!!